I accomplished a dream of publishing a book. It was hard. I don't have eloquent words for the feat of this magnitude. 90K words of my heart in print. Pray for it to reach people who need to hear it.  Holy Spirit do what only you can.
My heart broke over and over in 2022. There was change out of my control. New levels of trusting God and letting go. I had to dig deep. I am still reaching but less of my own strength and more of God's. The things we are facing aren't the kind I can just fix, they are the supernatural-sized. The kinds of trials that are testing. The difference is I have had more resolve to sit in peace. Choosing to love and exhale, releasing the temptation to hold onto expectations and simply, trust.
I do trust, I trust like crazy. I also know that my prayers are heard and I will never stop believing.
I got a tattoo with my mom & sister. It's a little bigger then I envisioned  but I love it.
We graduated Katy and it was letting go that ached my core. How did she grow up? I knew it was coming and then it was done.
We moved, God blessed us. SO while we battled spiritual warfare He provided hope. A God-sized, can't-make-this-up kind of provision. I am in awe, someday I hope to share the miracle of our new home.
My parent's sold our home from my childhood and it was grief, like actual grieving. All the memories it held. We also celebrated 45 years of marriage with a renewal of vows. They are the cutest. I love them so much!
We were a family of 7 for the month of June. William is apart of my heart. Incredibly grateful to be a bonus mom-ish and help love this boy!
Haven started public school and our house flooded.
I met a CADI friend and had the honor of speaking at his church in Pflugerville. Rev David Peters. I met wonderful, beautiful people.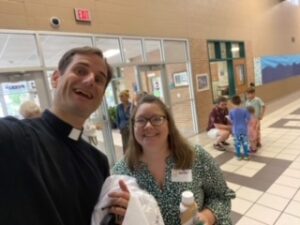 I told the Lord in 2021, after being a guest on @RedTableTalk that I was cool, that if nothing ever else happened in life I was good. But I also said, Lord use me, I am willing.
October just after honoring and remembering David for the 6th year, I traveled to North Carolina. God and his people provided the means to travel to speak at a retreat for survivors. I battled. I wanted with all my heart to go and yet, there was this inner battle of a voice that said, "you are not worthy."
The message God gave me was "God Makes It Beautiful." Because he does! My story is never going to be exceptional, but what God does can be. I looked into the eyes of twelve brave women and I was in awe of the Holy Spirit's presence.  You could feel him in the room. The joy. The family. The closeness. Beautiful.
He takes our shame, and our guilt, our wishes to rewrite our story and he makes it beautiful. I am really grateful he has the ability to do this but also how he connected women in the room with different stories. I know they left fired-up, filled-up and stirred to share that what happened to them doesn't define them.  *Bonus-I met a CADI that was there as a survivor of unimaginable pain. She is beautiful and I was there for her, God sent me for the one. Honored and humbled.
My heart is still broken and mending from 2022 but I am grateful beyond words and hopeful without fear, anxiety or doubt of God's goodness.
In between and not pictured were a couple semesters of graduate school. An MRI and trip back to Children's Dallas to visit Katy's neurosurgeon, A few trips to the ER, Covid, a wicked run-in with flu and a colonoscopy. I also got to see my books on the shelves of Barnes & Noble and that was surreal.  Let's go 2023 I am all in!
XOXO,
Jenn