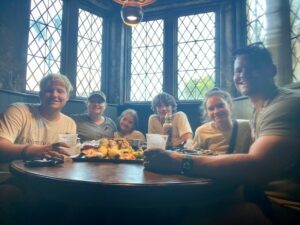 For years we dreamed of a trip to Disney and Universal. At some point we had placed this trip as a trip of a lifetime, a bucket list item. It felt impossible because the money to afford this trip was something unattainable. We had let it rest but as the days neared knowing our oldest was leaving for college and our family dynamic was changing, it was now or never. We began to dream again.
We made a budget and a goal and it had to happen above our monthly budget, so we wrote it out and showed the family. We explained the sacrifice and commitment. We put in hours of Door Dashing, not eating out, trimming the budget, selling things from closets in both a yard sale and flea market…but we were short.
Habakuk 2: 2-3 Then the Lord replied: "Write down the revelation and make it plain on tablets so that a herald may run with it. 3 For the revelation awaits an appointed time; it speaks of the end and will not prove false. Though it linger, wait for it; it will certainly come and will not delay."
I started to make plan "b's" and praying to the Lord that he would change the desires of our heart and I was so frustrated. I cried out to the Lord to help us and it felt selfish to ask for such a thing as a luxury trip. And then…
We got a phone call from a friend who happened to have a time share in Orlando. "Have you guys booked your hotel yet?" This question made a trip happen.
We entered a magical land and we said yes more to the kids than probably their entire lives. My heart was so full and grateful.  I wish I had more eloquent words but simply grateful says it all. In this photo it was our last day. We feasted as a family of six, and it hit us with tears and laughter. I'm certain the corner of The Leaky Caldron at Universal we sounded obnoxious. (But I don't care) It was truly a great trip.
We made a second trip to drop Patrick off at TN. Hundreds of miles confined to the family van from Texas to Florida to Texas and to Tennessee and home. We said goodbye to my oldest son and there was total peace.  He was ready, and his happiness and excitement faded my grief and worry. I had nothing but tears full of pride, hope and expectation of his future.  Eighteen years in the making a trip of a lifetime.